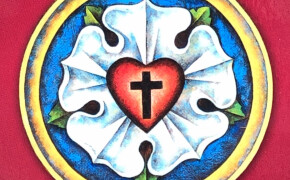 "It teaches what every Christian must know. So a person who does not know this catechism could not be counted as a Christian or be admitted to any Sacrament." -Luther on the catechism. This lengthy study goes into many important teachings from Luther's Large Catechism. The entirety of the faith can be found in the 10 Commandments, the Creed, and the Lord's Prayer. (Please note that this study began before the pandemic, which means that the medium recording has varied throughout.) Questions about the study? Please email Pastor Adam.
The reference book used for the class is "Luther's Large Catechism with Study Questions", 2010 CPH. Page and paragraph numbers on the handouts refer to this version.
The list below includes available information about each session.
"Materials" are links to class handouts and occasionally links to sites or videos provided in the class.
"Recordings" - Some sessions were recorded in some way. Links to those available are under "Recordings". As this spanned various phases of the Covid-19 lockdowns and restrictions, classes include no participants, Zoom participants, and in-person participants.
Topic
Materials
Recordings
Introduction to the Lutheran Confessions
lesson 1, intro to the Lutheran Confessions
n/a
Historical Context for the Catechism
lesson 2, Historical Context for the Catechism
n/a
Preface to the Large Catechism
lesson 3, Preface to the Large Catechism
n/a
1st Commandment
lesson 4, 1st commandment
n/a
2nd Commandment
lesson 5, 2nd commandment
n/a
3rd Commandment
lesson 6, 3rd commandment, along with Excursus "How Christians Should Regard Moses"
-audio download
-audio listen
4th Commandment, part 1 (a)
lesson 7
-video
4th Commandment, part 1 (b)
lesson 7
-video
4th Commandment, part 2 (a)
lesson 8, 4th commandment, part 2
-video
4th Commandment, part 2 (b)
lesson 8, 4th commandment, part 2
-video
4th Commandment, part 2 (c)
n/a
-video
4th Commandment, part 3 (a)
lesson 9, 4th commandment, part 3
-video
4th Commandment, part 3 (b)
lesson 9, 4th commandment, part 3
-video
5th Commandment
-lesson 10, 5th commandment
-"Immigrants Among Us"
-video
"Whether One May Flee from a Deadly Plague (Luther)"
"Whether One May Flee from a Deadly Plague (LW article)"
-video
"Whether One May Flee from a Deadly Plague (Luther)"
"Whether One May Flee from a Deadly Plague (LW article)"
-video
6th Commandment, part 1
lesson 11, 6th commandment
-video
6th Commandment, part 2
-lesson 11, 6th commandment
-link to Man, Woman, and Christ videos
-video
7th Commandment, part 1
lesson 12, 7th commandment
-video
7th Commandment, part 2
lesson 12, 7th commandment
-video
8th Commandment, part 1
lesson 13, 8th commandment
-video
8th Commandment, part 2
lesson 13, 8th commandment
-video
8th Commandment, part 3
lesson 13, 8th commandment
-video
8th Commandment, part 4
lesson 13, 8th commandment
-video
9th and 10th Commandments, part 1
lesson 14, 9th and 10th commandments
-audio download
-audio listen
The Close of the Commandments, part 1
lesson 15, close of the commandments
-audio download
-audio listen
The Close of the Commandments, part 2, the First Article
-"Back to the Beginning: Creation as Share and Meaning of the Story" (video)
-lesson 16, part 2, the first article
-audio download
-audio listen
1st Article
lesson 17, the first article
-audio download
-audio listen
2nd Article
lesson 18, the second article
n/a
3rd Article
lesson 19, the third article
-audio download
-audio listen
3rd Article (contd.)
lesson 19, the third article
-audio download
-audio listen
3rd Article (contd.)
lesson 19, the third article
-audio download
-audio listen
3rd Article (finish)
-lesson 19, the third article
-St Patrick's Bad Analogies (about the Trinity) (video)
Intro to Lord's Prayer
introduction to the Lord's Prayer
-audio download
-audio listen
Lord's Prayer Petitions One - Three
Lord's Prayer, petitions 1-3
-audio download
-audio listen
Lord's Prayer 2nd Petition
Lord's Prayer, petitions 1-3
-audio download
-audio listen
Lord's Prayer 3rd Petition
Lord's Prayer, petitions 1-3
-audio download
-audio listen
Lord's Prayer 4th and 5th Petition
Lord's Prayer, petitions 4,5
-audio download
-audio listen
Lord's Prayer Petitions 6 and 7
Lord's Prayer, petitions 6,7
-audio download
-audio listen
-video, 6th petition
Lord's Prayer 7th Petition
Lord's Prayer, petitions 6,7
-audio download
-audio listen
-video, 7th petition
Sacraments - Baptism, Part 1
lesson 24, baptism
-audio download
-audio listen
-video, Holy Baptism pt. 1
Sacraments - Baptism, Part 2
lesson 24, baptism
-video, Holy Baptism pt. 2
Sacraments - Baptism, Part 3
lesson 24, baptism
-video, Holy Baptism pt. 3
Sacraments - Baptism, Part 4 & Holy Absolution Part 1
-video, Holy Baptism pt. 4 & Absolution pt. 1
Sacraments - Holy Absolution, Part 2

lesson 25, absolution
"Absolution" podcast, Thinking Fellows

-video, Holy Absolution pt. 2
Sacraments - Holy Absolution, Part 3

lesson 25, absolution
"Absolution" podcast, Thinking Fellows

-video, Holy Absolution pt. 3
Sacraments - Sacrament of the Altar, Part 1
lesson 26, Sacrament of the Altar
-video, Sacrament of the Altar, pt. 1
Sacraments - Sacrament of the Altar, Part 2
lesson 26, Sacrament of the Altar
-video, Sacrament of the Altar, pt. 2
Sacraments - Sacrament of the Altar, Part 3
lesson 26, Sacrament of the Altar
-video, Sacrament of the Altar, pt. 3
Sacraments - Sacrament of the Altar, Part 4

lesson 26, Sacrament of the Altar
"Communion in a Time of Social Distancing", LCMS
"Whether One May Flee From A Deadly Plague", Lutheran Witness
"The Triumph of the Common Cup", TheJaggedWord
"You Might Die from Taking Communion", TheJaggedWord
-video, Sacrament of the Altar, pt. 4